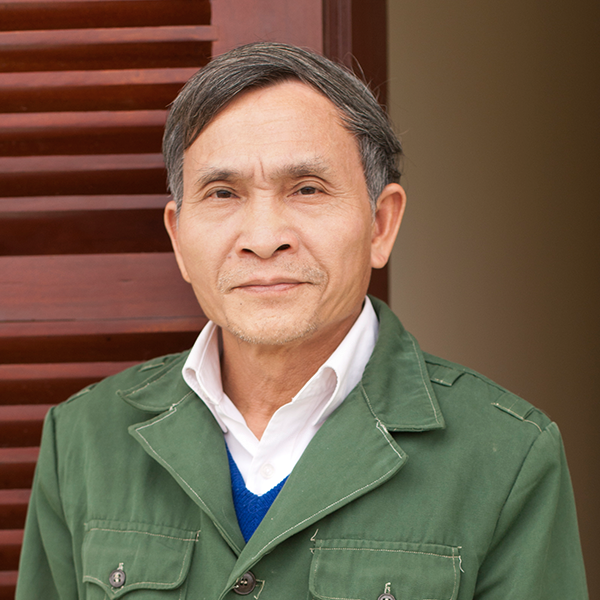 He lives in Phú Thọ with his wife, daughter and grand daughter
University student, no professional training.
Unit / Military Service:
Soldier, Trainer, Due to the significant loss of soldiers in '68, he decided to enlist in the army.
Relationship to Agent Orange / Biography, Family, Damages. The spraying of defoliants had already ended by the time Bui Ba Khang arrived in the south. However the effects, such as bare trees, did not go unnoticed. Furthermore he told us about barrels which contained Agent Orange. His first child died shortly after its birth in 1976. His second child was born into difficult circumstances. During his first years of life, he had to undergo five operations in a row. The child could not breast feed needed to be spoon-fed porridge. He still has trouble pronouncing vowel variations. In 1980, Khang and his wife brought a child into the world, who has survived to adulthood.
Khang wrote for the documentary a peom about the friendship village:
On the pond a small shadow.
The fins of the goldfish are still.
The fish loves the people as well.
With its round eyes it breathes lightly.
With pink lips, smiling.
Stuttering, no words come.
So sweet the little feet.
But why can't you stand and must you
sit in a wheelchair?
A crooked back, with a lopsided head and neck
So swings the pain of life.
Dear people from everywhere,
open your arms and catch the young life.
Wohnt in der Provinz Phú Thọ mit Frau, Tochter und Enkeltochter, wo er geboren wurde.
Soldat, Ausbilder.
Universitätsstudent, keine professionelle Ausbildung.
1968 gab es einen großen Verlust an Soldaten, weshalb er freiwillig der Armee beigetreten ist.
Kontakt zu Agent Orange: Als Bui Ba Khang in den Süden kam, war die Operation Ranchhand bereits beendet worden. Aber die Folgen, kahle Bäume, blieben ihm nicht verborgen. Außerdem berichtet er von Fässern, die Entlaubungsmittel enthielten.
Das erste Kind, 1976, starb kurz nach der Geburt, das zweite Kind kam unter schwierigen Umständen zur Welt und musste in den ersten Jahren fünf Operationen hintereinander erdulden. Das Kind konnte nicht saugen und musste Brei eingeflößt bekommen. Es kann immer noch nicht gut die Umlaute aussprechen. 1980 kam als drittes Kind ein Sohn zu Welt, der mittlerweile erwachsen ist. Khangs viertes Kind war eine Fehlgeburt und hatte einen offenen Mund.
Khang hat ein Gedicht über das Dorf der Freundschaft geschrieben und rezitierte für den Film:
Am Teich ein kleiner Schatten.
Die Flossen des Goldfisches still.
Der Fisch liebt auch die Menschen.
Mit seinen runden Augen atmet er nur leicht.

Mit rosa Lippen lächelnd.
Stotternd kommen keine Worte.
So süß die kleinen Füßchen.
Warum aber kannst du nicht stehen
und musst im Rollstuhl sitzen?

Gekrümmt der Rücken, mit schiefem Hals und Kopf,
so schwankt der Schmerz des Lebens.
Liebe Menschen von überall,
öffnet eure Arme und fangt das junge Leben auf.