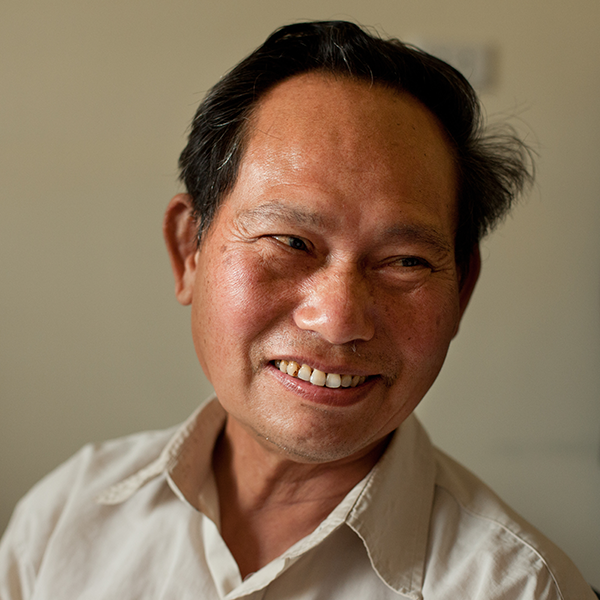 Born in the year of the doglives in the Province Phú Thọ
Military Service:
In 1965 he volunteered himself for the army. Hung was wounded three times. The third time, in 1973, was so bad, that he was sent home.
Hung's daughter, Men, born in 1981, suddenly lost her memory completely in 1998. Since then, she has lived in what was her family's kitchen, where they have cared for her throughout the last 14 years. She can't stand up, she doesn't remember anything, doesn't even know whether she has eaten; she can't remain covered since she cannot control her movement, so the room must always be heated during the winter.
As a good-bye gift, Hung gave Matthias Leupold his diary from the 70's. It had been carried along the entire Ho-Chi-Minh-Path from South Vietnam to North by a friend as a sign of life for Hung's family. At that point, though Hung believed in a North Vietnamese victory, he did not imagine that he would make it home alive.
Footnote: The complete translation of Hung's interview from the "Village of Friendship" is in German available. (about 25 pages)
Geboren 1946 im Jahr des Hundes; lebt in der Provinz Phú Thọ; hatte sich 1965 achtzehnjährig freiwillig zu Militär gemeldet;
Hung wurde dreimal verletzt, 1973 so schwer, dass er nach Hause zurückkehren musste.
Biografisches, Angaben zur Familie, evtl. Schäden:
Hungs Tochter Men, geboren 1981, verlor 1998 innerhalb kurzer Zeit ihr Gedächtnis vollkommen. Sie lebt seitdem in der ehemaligen Küche und wird von den Eltern seit 14 Jahren gepflegt. Sie kann nicht aufstehen, erinnert sich nicht, ob sie gegessen hat; sie kann nicht zugedeckt werden, weil sie die Kontrolle über ihre Bewegungen verloren hat, deshalb wird der ganze Raum im Winter immer geheizt.
Hung schenkte Matthias Leupold zum Abschied sein Tagebuch aus dem 70er Jahren, das den weiten Weg aus dem Süden Vietnams in den Norden von einem Freund als Lebenszeichen an seine Familie transportiert wurde. Zu diesem Zeitpunkt glaubte Hung zwar an einen Sieg der nordvietnamesischen Armee, nicht jedoch an die Möglichkeit einer Rückkehr für sich selbst.
Anmerkung:
Das Interview aus dem Dorf der Freundschaft liegt vollständig übersetzt vor. (ca. 25 Seiten) Link zum pdf: 2012_03_10_Interview_Biu_Phuc_Hung_Matthias_Leupold